The Formation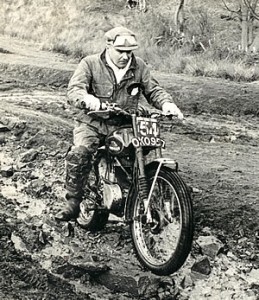 In the early summer of 1946, I was having a quiet pint in "Ye Olde Cellars", Tenterden in company with other members of the British Legion. We where discussing the forthcoming Legion's Gala to be held on August Bank Holiday and one of the members suggested that we hold a Motor Cycle Grass Track meeting on the Recreation Ground. He knew I'd done a bit of motor cycling in my time and suggested that I organise the event. I Explained that Grass Tracking was strictly controlled by the A.C.U. which meant that it must be run by a duly authorised club. "Why not form one?" he said and I had the job wished on to me. Fortunately, I was on friendly terms with most of the A.C.U. bigwigs and the preliminaries went through smoothly, including a permit for the Grass Track Meeting. So was formed the "Tenterden and District Motor Cycle and Light Car Club". The race meeting was a great success and was the forerunner of many more meetings on the same little track adjacent to the Recreation Ground and by permission of the owner, the late Major John Robson.
Karl Pugh
Some early stories… (A 75th Anniversary book is available) Contact the club.
1946
Club Membership for Ten Shillings
Formation Year.
1947
Club Funds at A.G.M. £75-10s-8d.
1948
Committee Meetings held at The Vine, Tenterden
Karl Pugh Chairman
Dance at Town Hall made a loss of two pounds seven shillings.
Grass Track and Scramble events run.
New member Eric Knowles later to become a very successful centre rider.
Rain insurance taken out for grasstrack events and two policemen requested to attend.
Centre Team Trial entered starting at Hothfield and covered 35 miles. Ten observers to be supplied by each club.
Weald of Kent Trial clerked by Karl Pugh.
Apathy of members and shortage of petrol led to the resignation of the Secretary.
The riding behaviour and state of machines brought the attention of the Kent Constabulary at an open to centre trial.
Saftey first road trial held with an entry of fifteen.
1949
Karl Pugh elected Chairman of East Kent Trials Combine.
63 events entered by members.
14 Teams entered various events.
Centre Team Trial at Stroud. Tenterden M.C.C. 4th out of 24 teams entered.
A. Wallis proved a versatile performer by winning awards at both trials and scrambles.
Agreement with Major Freeman that the Royal Military Police Corps Cup should be awarded service to the club by a non riding member.
Member W. Dengate won a 2nd class award in the Scottish Six Days Trial.
Tom Turk winner of the Silver Wings at Grasstrack.
Road trial ran with cars – solos and sidecars with supper at finish.
Tom Turk won S.E. Centre 350 cc Grasstrack Championship.
Weald of Kent Trial won by Eric Knowles. Best under 250 cc Karl Pugh.
Members won 37 Premier Awards, 64 First Class Awards, 67 Second Class Awards in Trials during the year.
1950
Tender of £6 per grasstrack event for catering facilities accepted
Spring Cup Combine Trial 85 entries.
Hill Climb event planned for July.
Membership 169
Team entered in Scottish Six Days Trial – Karl Pugh, Ted Usher, Alan Taylor.
President: Major Geoffrey Freeman.
Vice President: Stanley Day
Chairman: Karl Pugh
Grasstrack prize money 60/- 1st. 40/- 2nd, 20/- 3rd/
Clubmans TT entry paid by Club for T. Tooch plus £8-9s-0d. for expenses.
Ted Usher selected as a member of the British Vase A Team in the International Six Days Trial going on to win a Gold Medal.
Boxing Night Dinner & Dance extension till 2am bar 1am
1951
Cost of Gazettes raised to two pence.
1952
Grasstrack events discontinued because of poor financial returns and extortionate demands by excise authorities for entertainment tax.
Derek Farrant entered by club in Senior Clubmans TT.
Karl Pugh Secretary.
Recreation Ground booked for Motorcycle Gymkhana but cancelled because of bad weather.
Derek Farrent 350 cc winner at Brands Hatch and 3rd at Silverstone.
Hill Climb held at Ramsden Farm.
July – Committee and Club Nights moved to The Eight Bells, Tenterden.
Derek Garrant 3rd in Junior Manx Grand Prix and wins Senior.
1953
Committee voted to accept resignation of a member following complaints from other Clubs.
Customs Duty on Sports Events lifted in Budget Grasstrack Events Return.
Scottish Six Days Team of Karl Pugh, Gerry Mills and Ted Usher finished 6th our of 22 teams.
Club supports actions to get Purchase Tax removed from Safety Helmets.
1954
Caterers agreed to supply Roast Beef Dinner for 5/- at the Annual Dinner & Dance.
Admission to Grasstrac Adults 1/-, Children 6d., Car park 1/-/ Car park M/C 6d.
Rain insurance £50
27 Riders – 31 Races.
Ten Clubs in East Kent Trials Combine
Hald hour riding display put on by members at Stone Fete.
1955
Club Team finished 2nd in S.E. Centre Team Trial. Riders E. Usher, K. Pugh, S. Milton, L. Mills, G. Orpin, J. Coleman.
Serving Forces Members Ted Bolton applies for membership.
1956
Concern over diminishing finances of club. 87 members
Chairmans Cup Trial won by Derek Farrant.
Severity of E.K.T.C. trials sections cause concern.
Claim made on insurance for awards lost at Annual Dinner and Dance.
9 entries only for Stanley Day Trial.
Westwell Brick and Tile Works inspected with a view to holding a scramble.
Scramble held at Knowle Hill Farm, Ulcombe.
1957
Ned Noakes joins committee.
Permission sought to run a moto-ball event on recreation ground – Refused.
Club Chairman Karl Pugh,
Scott Type Trial introduced
New member J. M. Brush. Legendary Member Murray Brush.
Weald of Kent Trial entry 176 riders.
1958
Stan Milton and Karl Pugh represent club at E.K.T.C. meetings
Scott Type Trial held over 6 laps of 5 sections – a massed start – the final lap not observed. Fastest finished to make a standard time.
1959
The question arose as to whether the boys of Woodchurch could join the club and organise Push Bike Trials. Tim (Ginger) Homewood to put forward suitable candidates.
Novice Trial 136 entries.
Alf Austen organised Hill Climb.
Percy Smith starter, Winner Murray Brush.
Possibility of obtaining a radiogram for the E.K.T.C. Combine Function in Woodchurch Village Hall.
Weald of Kent Trial 206 entries. Shortage of Observers. Novice riders to give up entry if required.